Wage & Hour Claims LawyerSt. Louis & Illinois
Burger Law represents Wage and Hour claim clients throughout Missouri and Illinois
Wage and Hour Attorney in St Louis, MO. Burger Law is a personal injury law firm that specializes in wage and hour claims. In Missouri, wage laws are governed by the Fair Labor Standards Act (FLSA) and the Missouri Wage and Hour laws. These Fair Labor Standards Act laws cover minimum wage, overtime pay, classification of employees as exempt or non-exempt and a number of other key issues.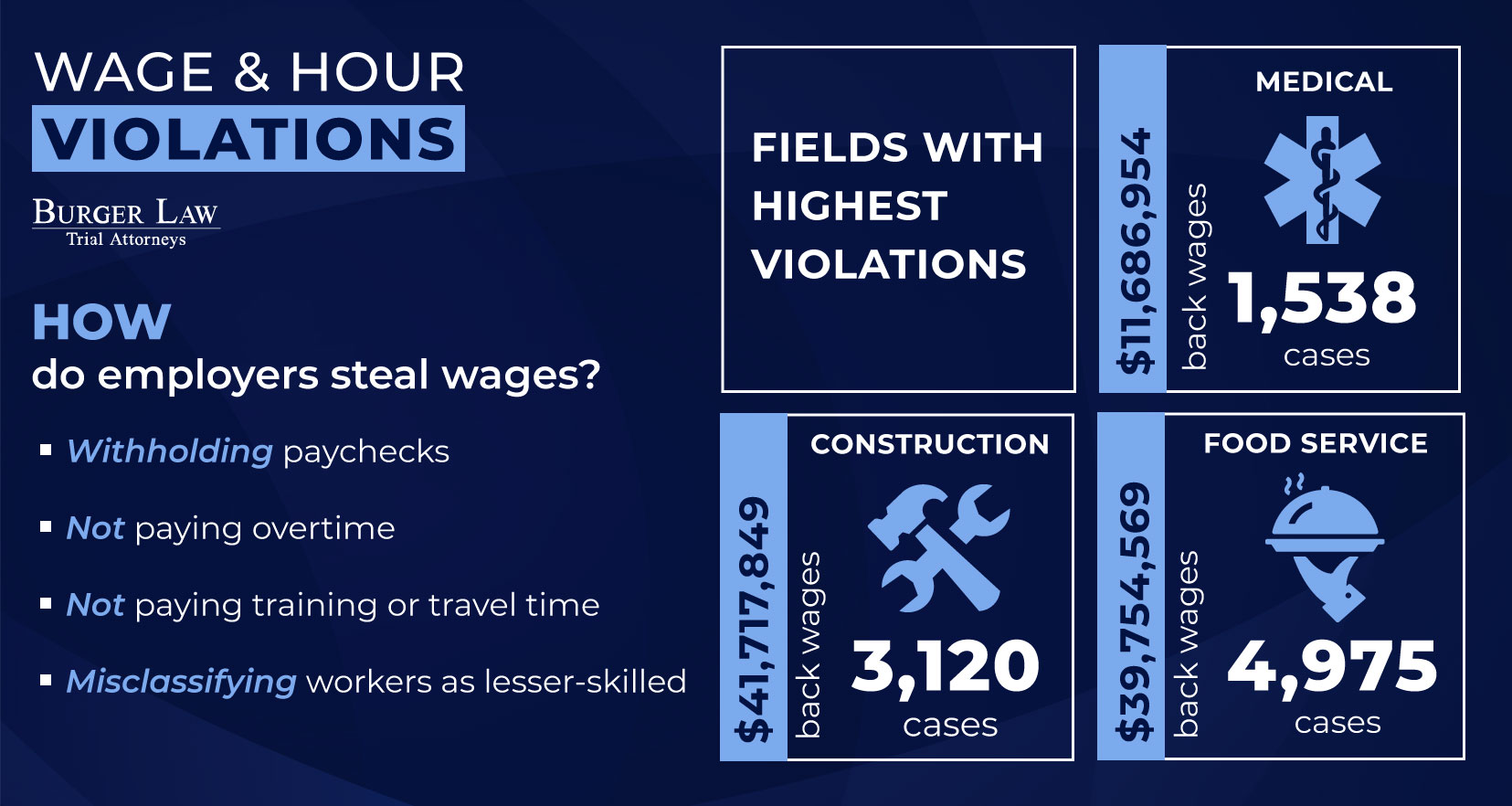 Burger Law's wage and hour lawyers understand that employees are entitled to compensation for the hours they have worked and should be paid at least twice a month, with some exceptions. The way an employee is paid will depend on whether he/she is classified as exempt (salaried and therefore not entitled to overtime pay) or non-exempt (hourly and therefore entitled to overtime pay for time worked more than 40 hours in a week). If you believe that you're not being paid fairly, contact the wage and hour attorneys at Burger Law to get started on your free case evaluation.
Wage Violation Lawyer St. Louis
Can a Lawyer help me get the wages I am owed?
If you are a covered employee, your employer must compensate you for:
All the time you perform doing work for the benefit of the employer (limited exceptions apply).
Any work that, though not requested by your employer, is permitted by your employer.
Any work over 40 hours per week at time and a half (overtime pay).
Why Should Burger Law Handle Your Wage and Hour Claim?
Our lawyers can travel to you to discuss your case
Burger Law is backed by decades of experience
We offer case evaluations at NO CHARGE
Burger Law is listed as Top National Trial Lawyers
Regardless of accident, we can handle your claim
There are no fees unless we recover for you
Our injury attorneys are recognized Super Lawyers
Wage and hour cases receive personalized attention
We are dedicated to recovering well for our clients
Our representation is aggressive and results prove it
Some employers have job requirements that force employees to perform job-related tasks "off the clock." That means that an employee might have to perform work or work-related activities before their official work shift starts and after their official work shift ends. These additional uncompensated activities can add up to a lot of unpaid wages. Furthermore, if an employee already works a 40 hour work week, this uncompensated work could mean that the employer is liable for over-time pay. These situations often come up when an employer has specific requirements that an employee has to fulfill before starting work, and the employer does not pay its employees for fulfilling those requirements. If your employer requires that you put on a specific uniform, gear or equipment before starting work, and does not pay you for the time it takes, you might have a wage and hour claim.
Wage and Hour Violation Lawyer
Burger Law can help you get the Wages you are owed
Our most recent victory involves the Missouri Correctional Department and our victory of 113 Million for the Correctional Officers of Missouri. We fought hard and made sure that these public servants were rewarded the pay they deserved. Our Attorneys can fight for your wage violations as well. We also take on these others types of workers compensation claims:
---
Frequently Asked Questions About Wage and Hour Claims
Find answers to common questions related to Wage and Hour lawsuits and Personal Injury claims of all types.