Wrongful Death LawyerSt. Louis, MO
Your Burger Law Wrongful Death Attorney will Fight for your Family's Rights and the Memory of your Loved One.
---
---
Wrongful Death Attorney in St Louis, MO. The personal injury attorneys at Burger Law are experienced in all areas of personal injury including wrongful death. Gary Burger and his team of lawyers and staff understand that the loss of a loved one due to wrongful death is immeasurable. At Burger Law, consoling and advising clients after a deadly tragedy to a loved one is one of our most delicate responsibilities, and we take this role very seriously. If your loved one has died because of the negligence of another person or corporation you may have a claim for that wrongful death.
Wrongful Death claims are never easy. Accidents that cause the passing of another are rarely by chance. There are always signs and records that point to a history of negligence that shows that the individual or business that caused the passing of your loved one could have taken steps to prevent the accident, but didn't. We will fight to make sure that they are held responsible to the fullest extent of the law, and we won't settle for anything less than a full recovery for your family.
Gary Burger and Burger Law are a team of wrongful death lawyers who are dedicated to fighting for the rights and recoveries of St. Louis families who have lost loved ones. We don't accept anything less than the maximum amount recoverable under the law, and we will always place the needs of you and your family first. We don't charge any fees unless we win your family's claim. Call us at your earliest convenience at 314-648-8348, 618-226-4811 or use this form.
Wrongful Death Lawyer St. Louis – Recent Success
With any type of legal claim, results matter. You want to know that your giving your case to the best possible lawyer, and the they're going to fight hard to make sure that your family recieves 100% of the recovery and compensation you deserve. A Wrongful Death Lawyer saying they're the best is one thing, a lawyer with client testimonials and results that can prove it is another. Here are several of our most recent victories as well as client testimonials:
Missouri and Illinois limit the time to file a wrongful death claim. These can be challenging claims – so quickly hiring us enables our wrongful death attorneys to collect important evidence, get an autopsy if necessary, contact witnesses, identify liable parties and decide which family member is best to pursue the death claim. Since you only have one chance to ensure that the deceased' family is financially secure well into the future, it is important that you work with a wrongful death attorney who has proven experience of winning these types of cases.
Gary Burger and the lawyers at Burger Law have over 70 years of combined experience in recovering millions of dollars to protect the future when a family member needlessly dies. If you've lost a loved one as a result of wrongful death, we encourage you to contact us today by calling (314) 648-8348 or completing our online contact form.
Why Should Burger Law Handle Your Wrongful Death Case?
Our lawyers can travel to you to discuss your case
Burger Law is backed by decades of experience
We offer case evaluations at NO CHARGE
Burger Law is listed as Top National Trial Lawyers
Regardless of accident, we can handle your claim
There are no fees unless we recover for you
Our injury attorneys are recognized Super Lawyers
Wrongful Death cases receive personalized attention
We are dedicated to recovering well for our clients
Our representation is aggressive and results prove it
The wrongful death attorneys of Burger Law do not charge you unless we win the death claim for your family. We dedicate our firm to exclusively fighting for you when a person, corporation or insurance company acts unsafe and causes the wrongful death of a family member or loved one. We aggressively pursue cases to get great recoveries for our clients. The wrongful death attorneys of Burger Law work on a contingency-fee basis. You will not owe any fees or expenses unless we win your case. Burger Law is well-financed and we have the resources and legal expertise to win the death claim held by your family.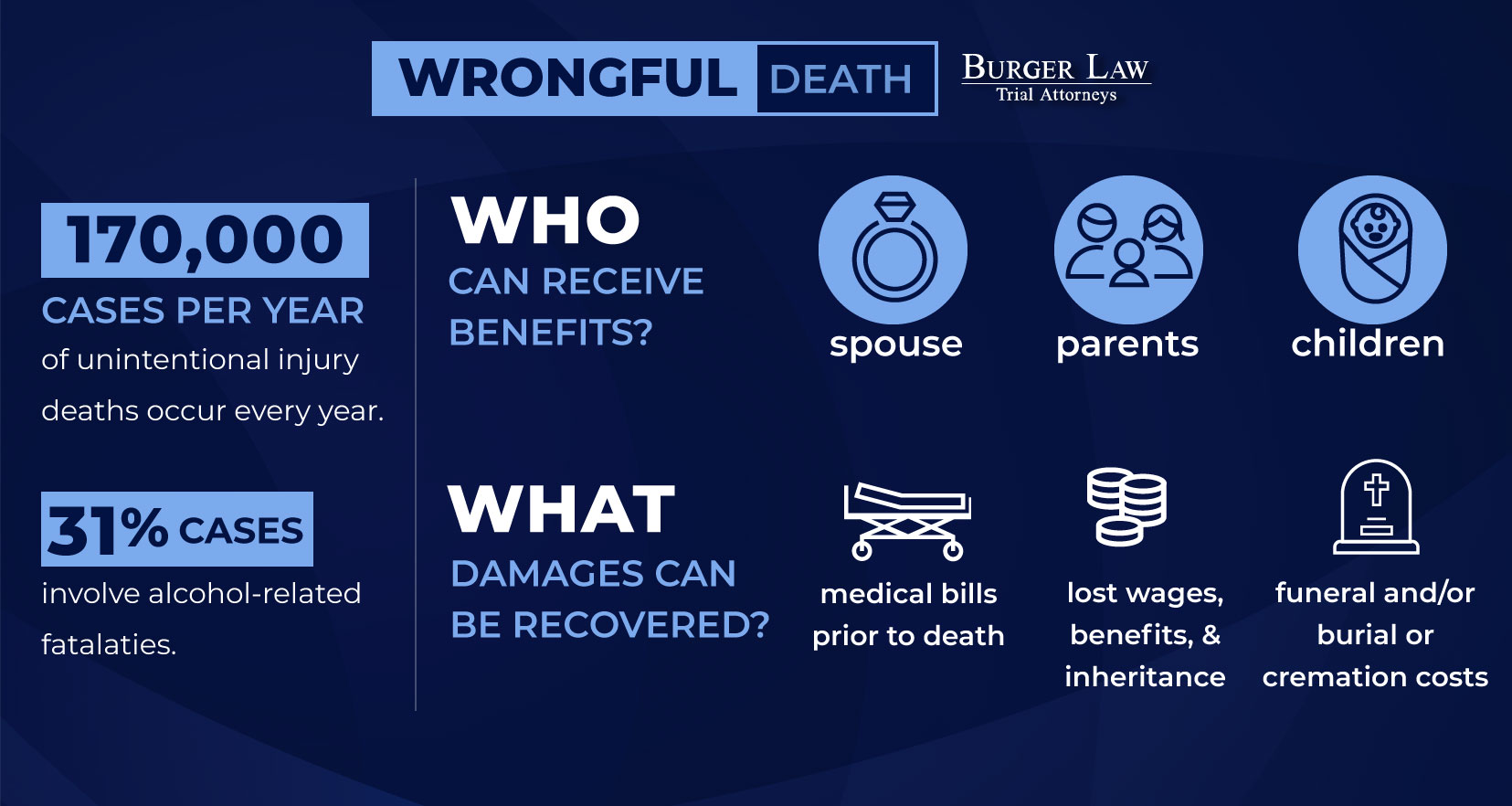 Wrongful Death Lawyer St. Louis and Illinois – Additional Resources
Wrongful Death Attorney St. Louis
What Can my Family recover from my Loved One's Passing?
Missouri Law dictates what can be recovered from a wrongful death lawsuit in statute 537.090. Under Missouri Law, your family can recover these losses:
Loss of Income
Loss of Companionship
Loss of Instruction to Children
Guidance
Counseling
Funeral Expenses
This list does not include everything that your family may be able to recover. We understand that your loved one's passing is difficult. We want to help you and your family recieve all of the compensation and financial recovery that you deserve. Your family deserves to have their needs and their concerns met. When you're ready to talk, we can help. Call 314-648-8348 or contact our Wrongful Death Lawyers in St. Louis.
Wrongful Death Attorney in St. Louis
Can a Lawyer help with my family's wrongful death claim?
If someone's death is caused by the careless or irresponsible actions of a person or organization, representatives of their estate have the right to file a wrongful death claim against the responsible party. It is important to note, however, that courts usually do not take emotional pain and suffering into consideration in wrongful death cases. If you want to file suit based on those or any other grounds, you may need help from an experienced St. Louis wrongful death lawyer. A compassionate and capable attorney could devote the time and resources necessary to achieve a positive outcome for you.
When Can a Person File a Wrongful Death Claim?
In most cases, a wrongful death claim can only be filed by a child, spouse, or parent/guardian of a deceased individual, and if the claimant is successful they may receive restitution for their financial losses.  
Wrongful death suits can be filed under a myriad of circumstances. As long as a person is killed due to negligence or an intentional criminal act, most courts will hear a wrongful death case. Wrongful death claims are often filed in the wake of deaths caused by:  
Automobile accidents

 

Defective or dangerous products

 

Medical malpractice 

 

Occupational accidents

 

Maritime and offshore accidents

 

Criminal activity 

 
Even if a person is found not guilty by a criminal court, they can still be held financially responsible in civil court if a family chooses to file a wrongful death suit. This is because the burden of proof is not as great in civil court since the jury there can award monetary damages but cannot levy criminal charges.  
Recovering Financial Damages
After the death of a loved one, surviving family members can struggle to remain afloat financially. Medical bills and funeral costs may be overwhelming, and families can find it difficult to make ends meet after losing a major source of income. To make matters worse, dependents of the deceased person may lose access to inheritance or college funds that would have remained theirs if their caretaker was still alive.  
If the family of a deceased individual fails to file a wrongful death suit, they will be responsible for covering the previously mentioned expenses with their own money, which may not be enough. Fortunately, a strong wrongful death claim headed by a seasoned wrongful death attorney may have a strong chance of recovering some of these costs as damages. Burger Law's experienced wrongful death lawyers are dedicated to answering your questions and supporting you during your entire case. Learn more about what damages you can recover and how much money you could receive here.
What Role Does Negligence Play in a Wrongful Death Case?
Accidents do happen, but when they are avoidable, individuals and organizations can be held legally liable if they did not take reasonable steps to prevent the accident from occurring. Wrongful death cases are frequently governed by a legal principle known as negligence. Individuals and organizations that do not take reasonable steps to ensure the safety of others are said to be negligent if their actions or inaction result in an accident.
To prove the defendant is guilty of negligence, a St. Louis wrongful death lawyer will have to prove they owed a duty of care to the deceased individual. They will also need to prove the defendant failed to honor this duty of care, and that the death of the person in question was caused directly or indirectly by this failure.
St. Louis Wrongful Death Lawyer
The death of a loved one can be traumatic. After their death, you may find yourself struggling to return to normal and wishing that the responsible party could be held accountable. If you want justice for your loved one, an attorney could help. An experienced wrongful death attorney can devote the time and resources necessary to achieve justice for your loved one. Contact a St. Louis wrongful death lawyer today to schedule a consultation.
---
Frequently Asked Questions About Wrongful Death
Find answers to common questions related to Wrongful Death lawsuits and Personal Injury claims of all types.
---
Schedule your FREE consultation below